Week 41: Fairfield, USA (winner: Mackenzie McDonald)
---
Week 41: Farfield, USA
Escobedo,Ernesto USA 89
Sandgren,Tennys USA 100
Fratangelo,Bjorn USA 118
Marterer,Maximilian GER 121
Mmoh,Michael USA 142
Kozlov,Stefan USA 144
Milojevic,Nikola SRB 152
Ramanathan,Ramkumar IND 153
King,Darian BAR 159
Auger-Aliassime,Felix CAN 161
Norrie,Cameron GBR 164
Groth,Sam AUS 167
Kudla,Denis USA 173
Krueger,Mitchell USA 184
Smith,John-Patrick AUS 185
Rubin,Noah USA 195
McDonald,Mackenzie USA 197
Kamke,Tobias GER 201
Schnur,Brayden CAN 208
Ivashka,Ilya BLR 224
Novikov,Dennis USA 225
Klein,Brydan GBR 235
Registered User
Join Date: Feb 2011
Posts: 17,292
Re: Week 41: Farfield, USA
---
OUT: Ivashka
IN: @ Dancevic
NEXT: Broady
Re: Week 41: Fairfield, USA
---
Qualifying Draw
(1)Liam Broady v (wc)Ryder Jackson
Christopher O'Connell v Jared Hiltzik
Takanyi Garanganga v Tom Fawcett
Alexios Halebian v (5)Jay Clarke

(2)Daniel Elahi Galan v Matthew Barton
(wc)Jake Douglas v Jan Satral
Eric Johnson v Frederik Nielsen
Sekou Bangoura v (6)Jan Choinski

(3)Dominik Koepfer v Florian Lakat
Alejandro Gonzalez v (wc)Timothy Sah
John Lamble v Collin Altamirano
(wc)Ruan Roelofse v (7)Alejandro Falla

(4)Roberto Ortega-Olmedo v Alexander Ward
Greg Jones v Lucas Gomez
Ryan Haviland v (wc)Mousheg Hovhannisyan
(wc)Jenson Brooksby v (8)Sebastian Fanselow
Re: Week 41: Fairfield, USA
---
First Qualifying Round
(1)Liam Broady d (wc)Ryder Jackson 62 75
Christopher O'Connell d Jared Hiltzik 26 63 63
Tom Fawcett d Takanyi Garanganga 63 64
(5)Jay Clarke d Alexios Halebian 64 ret

(2)Daniel Elahi Galan d Matthew Barton 75 46 62
Jan Satral d (wc)Jake Douglas 64 61
Frederik Nielsen d Eric Johnson 62 75
Sekou Bangoura d (6)Jan Choinski 76(4) 62

(3)Dominik Koepfer d Florian Lakat 67(2) 61 63
Alejandro Gonzalez d (wc)Timothy Sah 64 64
John Lamble d Collin Altamirano 60 75
(wc)Ruan Roelofse d (7)Alejandro Falla 57 64 75

Alexander Ward d (4)Roberto Ortega-Olmedo 61 61
Greg Jones d Lucas Gomez 76(2) 26 64
Ryan Haviland d (wc)Mousheg Hovhannisyan 64 63
(8)Sebastian Fanselow d (wc)Jenson Brooksby 61 61

________________________________________

Main Draw
(1)Ernesto Escobedo v (wc)Alexander Sarkissian
Bradley Klahn v Kevin King
Felix Auger-Aliassime v Q
Brayden Schnur v (8)Nikola Milojevic

(4)Maximilian Marterer v Brydan Klein
Q v Michael Mmoh
(wc)Axel Geller v Dennis Novikov
(wc)Evan King v (5)Cameron Norrie

(7)Ramkumar Ramanathan v Tobias Kamke
Denis Kudla v Q
Q v John-Patrick Smith
(wc)Wayne Montgomery v (3)Bjorn Fratangelo

(6)Stefan Kozlov v Mackenzie McDonald
Frank Dancevic v Darian King
Sam Groth v Noah Rubin
Mitchell Krueger v (2)Tennys Sandgren
Re: Week 41: Fairfield, USA
---
Second Qualifying Round
Christopher O'Connell d (1)Liam Broady 63 36 63
(5)Jay Clarke d Tom Fawcett 26 63 63

Jan Satral d (2)Daniel Elahi Galan 64 57 64
Sekou Bangoura d Frederik Nielsen 76(3) 63

Alejandro Gonzalez d (3)Dominik Koepfer 64 46 63
(wc)Ruan Roelofse d John Lamble 62 62

Alexander Ward d Greg Jones 63 64
(8)Sebastian Fanselow d Ryan Haviland 64 63
Re: Week 41: Fairfield, USA
---
Final Qualifying Round
Christopher O'Connell d (5)Jay Clarke 63 75
Jan Satral d Sekou Bangoura 64 67(4) 64
(wc)Ruan Roelofse d Alejandro Gonzalez 76(6) 62
(8)Sebastian Fanselow d Alexander Ward 62 64

First Round
(1)Ernesto Escobedo d (wc)Alexander Sarkissian 57 60 62
Bradley Klahn v Kevin King
Felix Auger-Aliassime v (Q)Jan Satral
(8)Nikola Milojevic d Brayden Schnur 61 75

(4)Maximilian Marterer v Brydan Klein
(Q)Ruan Roelofse v (LL)Sekou Bangoura
(wc)Axel Geller v (Q)Sebastian Fanselow
(wc)Evan King v (9)Michael Mmoh

Tobias Kamke d (7)Ramkumar Ramanathan 64 46 64
Denis Kudla v (Q)Christopher O'Connell
(LL)Alejandro Gonzalez v John-Patrick Smith
(LL)Alexander Ward v (3)Bjorn Fratangelo

(6)Stefan Kozlov v Mackenzie McDonald
Frank Dancevic v Darian King
Sam Groth v Noah Rubin
Mitchell Krueger v (2)Tennys Sandgren
Re: Week 41: Fairfield, USA
---
First Round
(1)Ernesto Escobedo d (wc)Alexander Sarkissian 57 60 62
Bradley Klahn d Kevin King 16 61 61
Felix Auger-Aliassime d (Q)Jan Satral 46 63 64
(8)Nikola Milojevic d Brayden Schnur 61 75

(4)Maximilian Marterer d Brydan Klein 64 76(2)
(LL)Sekou Bangoura d (Q)Ruan Roelofse 64 64
(Q)Sebastian Fanselow d (wc)Axel Geller 62 64
(9)Michael Mmoh d (wc)Evan King 61 46 76(5)

Tobias Kamke d (7)Ramkumar Ramanathan 64 46 64
(Q)Christopher O'Connell d Denis Kudla 75 63
(LL)Alejandro Gonzalez d John-Patrick Smith 61 64
(3)Bjorn Fratangelo d (LL)Alexander Ward 36 76(5) 64

Mackenzie McDonald d (6)Stefan Kozlov 64 57 61
Darian King d Frank Dancevic 64 64
Noah Rubin d Sam Groth 64 36 75
(2)Tennys Sandgren d Mitchell Krueger 63 67(2) 76(5)
Re: Week 41: Fairfield, USA
---
Second Round
(1)Ernesto Escobedo v Bradley Klahn
(8)Nikola Milojevic d Felix Auger-Aliassime 62 64
(4)Maximilian Marterer v (LL)Sekou Bangoura
(Q)Sebastian Fanselow v (9)Michael Mmoh
Tobias Kamke v (Q)Christopher O'Connell
(LL)Alejandro Gonzalez v (3)Bjorn Fratangelo
Mackenzie McDonald v Darian King
Noah Rubin v (2)Tennys Sandgren
Re: Week 41: Fairfield, USA
---
Second Round
Bradley Klahn d (1)Ernesto Escobedo 64 67(7) 63
(8)Nikola Milojevic d Felix Auger-Aliassime 62 64
(4)Maximilian Marterer d (LL)Sekou Bangoura 63 62
(Q)Sebastian Fanselow d (9)Michael Mmoh 76(2) 76(5)

(Q)Christopher O'Connell d Tobias Kamke 06 63 64
(3)Bjorn Fratangelo d (LL)Alejandro Gonzalez 76(5) 76(5)
Mackenzie McDonald d Darian King 63 61
(2)Tennys Sandgren d Noah Rubin 76(1) 63
Re: Week 41: Fairfield, USA
---
Quarterfinals
Bradley Klahn d (8)Nikola Milojevic 46 63 64
(4)Maximilian Marterer d (Q)Sebastian Fanselow 64 75
(Q)Christopher O'Connell d (3)Bjorn Fratangelo 76(5) 57 64
Mackenzie McDonald d (2)Tennys Sandgren 76(3) 62
Re: Week 41: Fairfield, USA
---
Semifinals
Bradley Klahn d (4)Maximilian Marterer 61 63
Mackenzie McDonald d (Q)Christopher O'Connell 64 75
Re: Week 41: Fairfield, USA
---
FINAL
[SE] Bradley KLAHN (USA) vs Mackenzie MCDONALD (USA)
It's the 10th (5-4; 0-1 ytd) Challenger Final for 27yo KLAHN and maiden one for 22yo MCDONALD.
Back-to-back finals for KLAHN. Before that he hadn't made a final for nearly 3 years mainly due to injury.
MCDONALD's achieved to get to a final in his 8th attempt (lost 7 Semis so far).
H2H
: first meeting
Re: Week 41: Fairfield, USA
---
Final
Mackenzie McDonald d Bradley Klahn 64 62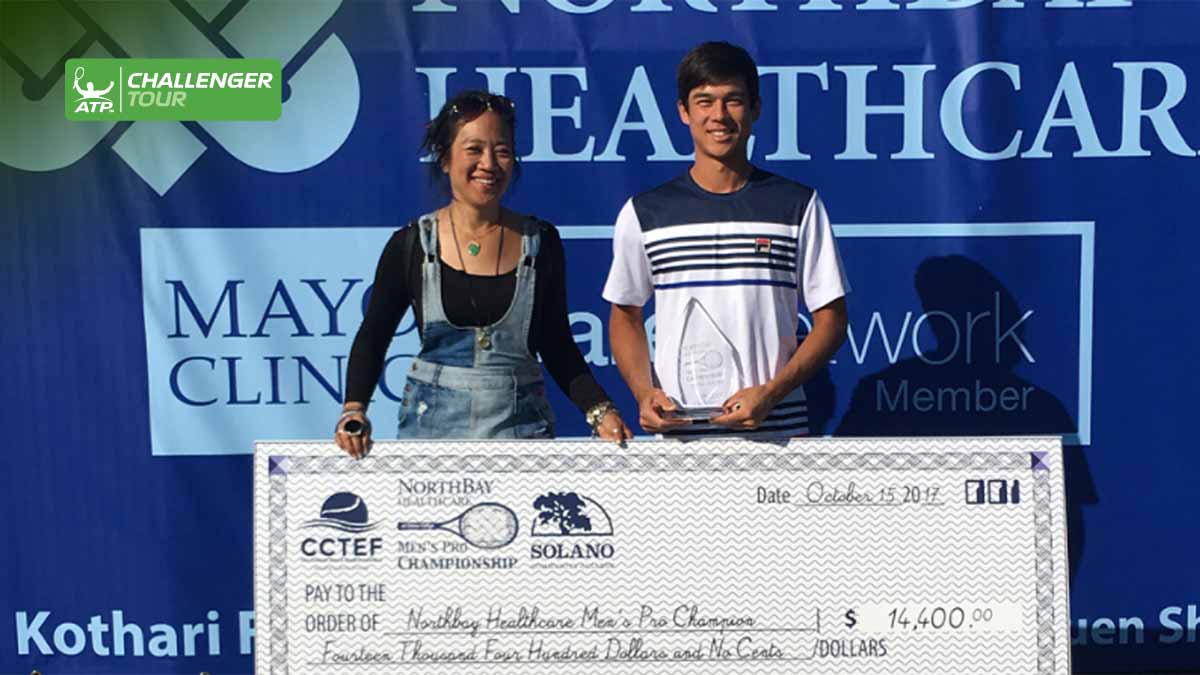 ---
Last edited by Walsall; 10-16-2017 at

08:44 AM

.