Re: David News & Articles
---
yes, he will play only in Davis Cup doubles,
name Nalbandian is out of all future tournaments of 2013...
buy buy David?
retired in such poor way?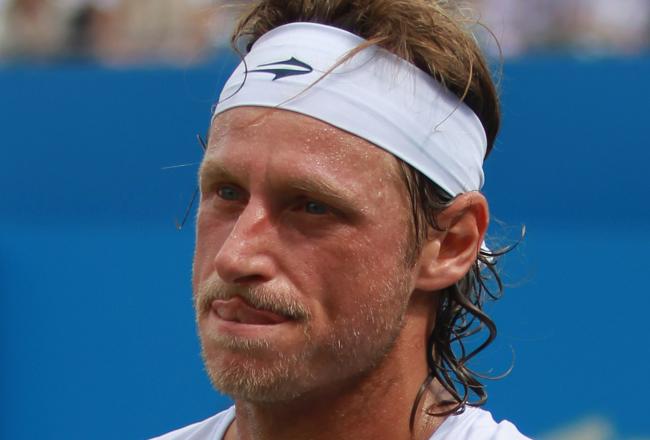 Re: David News & Articles
---
When will Nalbandian back?
Re: David News & Articles
---
Quote:
When will Nalbandian back?
David becomes recently a dad -
no time for tennis anymore
!!!
Ex-Wimbledon finalist David Nalbandian becomes a dad
AFP May 28, 2013, 08.47PM IST
PARIS: Former Wimbledon runner-up David Nalbandian on Tuesday thanked fans for their messages
of congratulation after his wife gave birth to a baby girl, Sossie.
"I am delighted. Last night, Sossie (it is an Armenian name) was born. Both the baby and Vicky are in tip-top condition,
" said the 31-year-old from Cordoba.
http://tennisinfoblog.com/david-nalb...ecome-a-father
May 29, 2013 | Photo By Nina In David Nalbandian, Roland Garros
Re: David News & Articles
---
[youtube]W_3uTCdQGUs[/youtube]
Re: David News & Articles
---
Nació Sossie, la hija de David Nalbandian
El tenista cordobés presenció el parto. El alumbramiento de su mujer, Victoria Bosch,
se realizó en el Sanatorio Allende.
David Nalbandian, el mejor tenista cordobés de todos los tiempos, fue padre por
primera vez. Anoche su mujer, la farmacéutica Victoria Bosch, dio a luz a Sossie
en el Sanatorio Allende Norte, cesárea mediante.
El deportista de 31 años presenció el parto aprovechando la recuperación de la
doble cirugía de hombro y cadera que se realizó a comienzos de mayo en Barcelona.
Mientras se juega Roland Garros, Nalbandian espera recuperarse para volver al
circuito aunque el objetivo principal sigue siendo la serie semifinal de Copa Davis,
cuando el equipo capitaneado por Martín Jaite visite a República Checa en septiembre.
Más allá de esto, el unquillense que ocupa actualmente el 187º puesto de ATP,
había manifestado que esta temporada iba a estar más cerca de la familia y no tan
pendiente del circuito.
Nalbandian witnessed the birth. The birth of his wife, Victoria Bosch, was held
at the Sanatorium Allende.
David Nalbandian Nalbandian the best of all time, became a father for the first
time. Last night his wife, Victoria Bosch pharmaceutical, gave birth to the
Sanatorium Allende Sossie North by cesarean.
The athlete of 31 years witnessed the birth advantage of double recovery of shoulder
and hip surgery that took place in early May in Barcelona.
While playing Roland Garros, Nalbandian hopes to recover to return to the circuit
but the main focus remains the Davis Cup semifinals, when the team led by Martin
Lendl visit Czech Republic in September.
Beyond that, Nalbandian currently occupying the 187th position of ATP, had stated
that this season was going to be closer to the family and not so aware of the circuit.
Re: David News & Articles
---
Fat Dave
---
Deutschland
Federer aus der Schweiz; Haas aus Deutschland; Melzer aus Österreich
alle Spieler, die Deutsch als Muttersprache sprechen
Re: David News & Articles
---
Hope that he play more tournaments than Davis Cup...
Re: David News & Articles
---
The King El Ray, at the wheel: David Nalbandian of Argentina compete in the Championship
In the first year after his retirement, the former player will enter the racing, one of his great passions
22.01.2014
El Rey, al volante: David Nalbandian competirá en el Campeonato Argentino de Rally
racket behind the wheel. After retiring from tennis, David Nalbandian of Argentina compete in the Championship this season, according to reports from the organization.
Nalbandian will drive a Chevrolet Agile Maxi Rally prepared by his own team, the Tango Rally Team. The team was founded seasons ago along with other local representative, the dedicated pilot Marcos Ligato.
The experienced navigator Daniel Stillo who will accompany Nalbandian in the right seat, with the idea of ​​bringing their knowledge as co-pilot in the category.
Re: David News & Articles
---
A deserved recognition to David Nalbandian and the Legion
In the ATP Buenos Aires, King received a standing ovation along with Jose Acasuso, Juan Ignacio Chela, Agustin Calleri, Mariano Zabaleta and Franco Squillari
Sábado 15 de febrero de 2014 | 16:04
http://canchallena.lanacion.com.ar/1...an-y-la-legion
The David Nalbandian , last exponent of the so-called " Legion Argentina " on retiring from tennis , just over three months ago , today received the largest public displays of affection during the tribute to that generation received "golden " that captured titles and accolades worldwide during the last decade.
The " Olé, Olé, Olé , David, David ," was strong in the Buenos Aires Lawn Tennis Club as soon as the nearly 3,500 spectators who came to see the quarterfinals of the ATP Buenos Aires to Cordoba Unquillo distinguished in the hallway that led from the living players to center court .
Nalbandian, ATP Buenos Aires champion in 2008 , he joined with his little daughter Sossie , eight months, and was soon in the arms of a public affection besides its quality tennis always recognized his devotion and commitment to the Davis Cup , which earned him the nickname " King David" .
Besides unquillense were five " Legionnaires " : José Acasuso , Juan Ignacio Chela , Agustin Calleri , Mariano Zabaleta and Franco Squillari .
Acasuso , who came from his native missions , was a finalist in the inaugural tournament in 2001, when he lost the definition with Brazilian Gustavo " Guga " Kuerten , world number one at the time.
Another Cordoba , the " Gordo " Calleri , a finalist in 2002 (lost to Chilean Nicolas Massu ) traveled especially Rio Cuarto, while " Flaco" Chela, a finalist in 2011 ( lost to Spanish Nicolas Almagro ) , Squillari and " Black " Zabaleta residing in different parts of the Federal Capital and usually attend each day of the ATP Buenos Aires .
Absent that apologized for not attending were the "Wizard " Guillermo Coria , champion in 2004 , who argued a compromise in Rosario , and Guillermo Canas , who lives in Miami.
Meanwhile, he waited until the last minute to "Cat " Gaston Gaudio and Mariano Puerta champion and finalist in the 2005 edition of the event , respectively.