Registered User
Join Date: Jun 2008
Location: Summer!
Posts: 3,640
Re: Swiss Davis Cup Team
---
Quote:
Then I definitely want to watch that match
Oh yeah, me too
Re: Swiss Davis Cup Team
---
GL guys!!
---
~ Tommy Haas~
Nalbandian ~Gasquet ~ Sela ~ Wawrinka
Safin!!
Re: Swiss Davis Cup Team
---
Quote:

Olympic champs Federer, Wawrinka team up for Cup


By GRAHAM DUNBAR, Associated Press Writer 1 hour, 48 minutes ago.


LAUSANNE, Switzerland (AP)—Roger Federer and Stanislas Wawrinka will revive their Olympic gold medal-winning doubles partnership against Belgium and try to lead Switzerland back into the elite Davis Cup World Group.

Swiss captain Severin Luethi confirmed Thursday that the pair will team up for the first time in Davis Cup play in Saturday's doubles of the best-of-five playoff.

Wawrinka, ranked No. 9 in the world, will open Friday's singles against 58th-ranked Steve Darcis. U.S. Open champion Federer, now ranked No. 2 behind Rafael Nadal, follows against No. 95 Kristof Vliegen. The matchups are reversed for Sunday's singles.

The Swiss pairing will face Olivier Rochus and Xavier Malisse, who won the doubles title a the 2004 French Open.

The Belgian duo each present Federer with some personal history.


As a 17-year-old in 1999, Federer lost both his Davis Cup singles matches— including one to Malisse—and the Swiss team fell 3-2 in the quarterfinals in Brussels.

"I don't have any good memories of that match," Federer said. "I have waited a long time for revenge."

Federer and Rochus are friends from their days on the junior circuit. They teamed up to win the boys' doubles at Wimbledon in 1998, when Federer also won the boys' singles.

The 27-year-old Rochus said he was not surprised that Federer turned a rare appearance in doubles into a gold medal at Beijing.

"When it was important in the Olympics he played once and he won it," the Belgian said. "That proves he is the best player in the world. He can do anything with the ball."

Federer, who will play before a Swiss crowd for the first time this year, said he hoped to relive the Olympic experience he shared with Wawrinka.

"We were a really nice team," he said. "Stan played great doubles over there."


(now can I pray for a miracle for there to be a stream for this??)
---
This girl adores Roger ♥ Stanley ♥ Marat ♥ Verdasco
Swiss Davis Cup team owns me.
Severin Luthi ♥ Stanislas Wawrinka ♥ Marco Chiudinelli ♥ Yves Allegro ♥ Stephane Bohli
HOPP SUISSE !!
Re: Swiss Davis Cup Team
---
Thanks for the article! Really nice
As for now Switzerland-Belgium 2-0
Wawrinka def Darcis 6:7 6:2 6:3 4:6 6:4 (or something like that..)
Federer def Vligen 7:6 6:4 6:2
---
~ Tommy Haas~
Nalbandian ~Gasquet ~ Sela ~ Wawrinka
Safin!!
Re: Swiss Davis Cup Team
---
Here is some stuff from the USA-Switzerland tie, I might actually do all the ties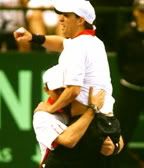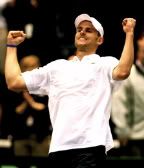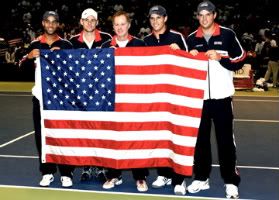 ---
Heart of a Champion.