Grigor racket
---
Quote:
priority1 @priority1

16 @WilsonTennis racquets ready to be prepared for @GrigorDimitrov & @milosraonic here @BNPPARIBASOPEN -Nate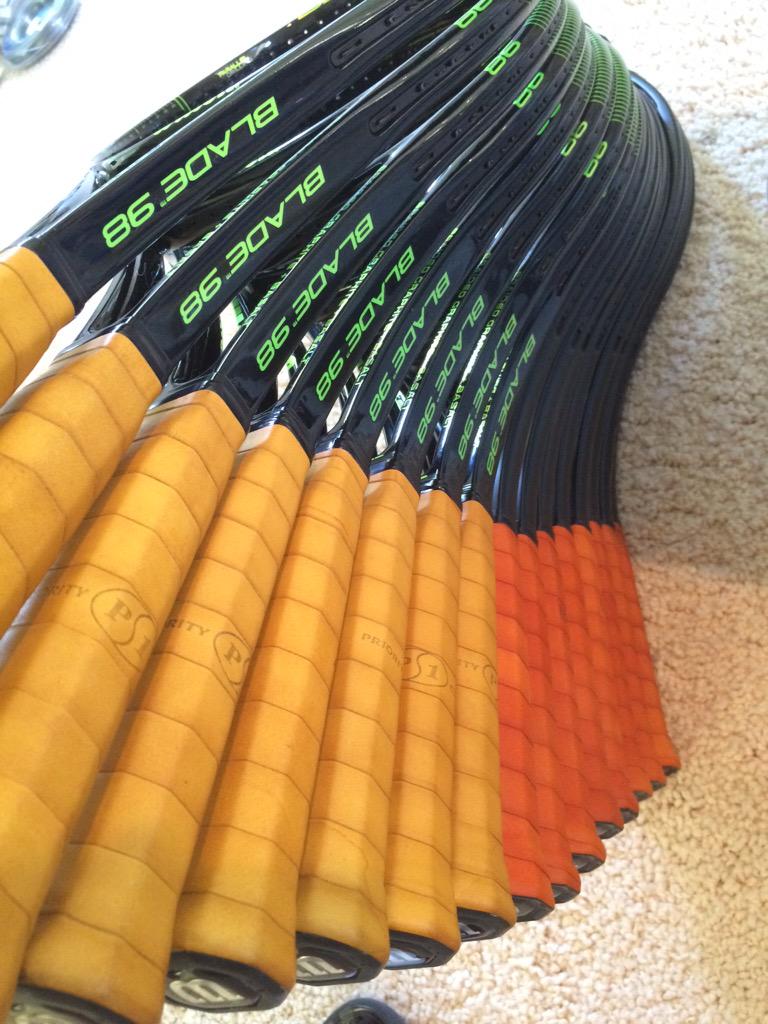 Re: Grigor racket
---
Twitter
Quote:
Some morning gripping to do for @stanwawrinka @rogerfederer @GrigorDimitrov and @Gael_Monfils -Ron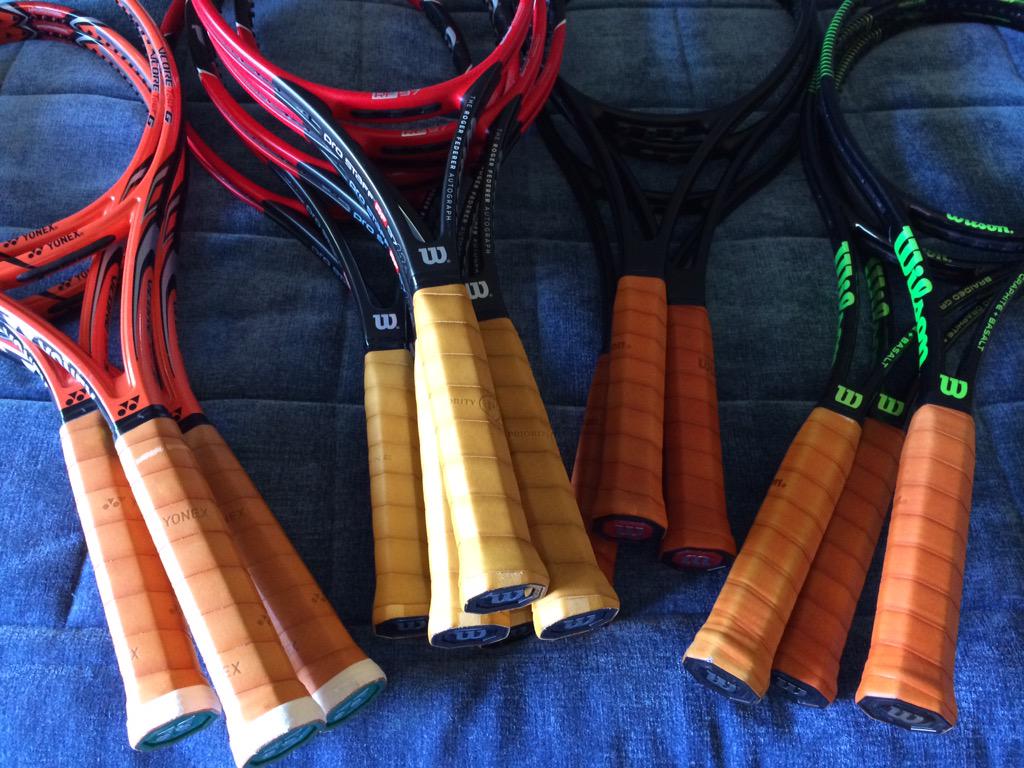 With what racquet is Grigor playing nowadays, he seems to change it very often?
Registered User
Join Date: Aug 2014
Posts: 1,591
Re: Grigor racket
---
Some news (from Tennis Warehouse forum)
Here what the OP said :
"
Wilson releasing PS97S for Grigor Dimitrov (specs included)
05-13-2015, 09:11 PM
Unstrung specs:
Head size: 97"
Weight: 310g
Balance: 33.5cm
Lenght: 27"
String Pattern: 18x17
Beam width: 19.5mm flat beam
Cosmetics look like the PS97 except the Wilson logos at the throat and W and Pro Staff writing on the head are gold instead of silver.
I have pictures but TW would delete the thread pretty quickly if I were to post them...."
http://tt.tennis-warehouse.com/forum...specs-included
---
Last edited by CCTennis; 05-15-2015 at

01:50 PM

.
Registered User
Join Date: Mar 2012
Posts: 482
Re: Grigor racket
---
WTF!?! I thought he had already settled with his new racket for quite a while now...???


Re: Grigor racket
---
Stick Shift
THURSDAY, AUGUST 20, 2015 /by JON LEVEY
Although it didn't produce quite the stir that Roger Federer's dalliance with a stealth frame caused, Grigor Dimitrov spent large chunks of the past few seasons experimenting with a black Wilson prototype. Dimitrov had previously played with a Pro Staff 95, and speculation centered on whether he would stay in that family of frames, or break the mold and play with something completely different. According to the racquet manufacturer, it was a two-year collaboration between player and company to develop his next weapon of choice.
The final product—which debuted earlier this month at the Citi Open in Washington DC—is the newest member of the updated Pro Staff line. The PS 97S carries the same weight at the standard PS 97—about an ounce lighter than the Federer Autograph model—but with a more spin-friendly string pattern. Per the Wilson Player ID System, which matches frame to playing style, the PS 97S suits the "Attacker" game type—someone who takes the ball early to dictate play inside the baseline.
Here are the frame's unstrung specs:
Headsize: 97 sq. in.
Weight: 310 g / 10.9 oz
String Pattern: 18x17
Balance: 33.5cm / 3 pt HL
Length: 27 in
Cross Section Width: 19.55 mm
The first characteristic that jumps out is the unusual string configuration. Like all Wilson Spin Effect frames, it has fewer cross than main strings. However, the other Spin racquets that have 18 main strings—such as the Blade 98S, Burn 100S, Pro Staff 97LS, Six.One 95S—all have 16 crosses. The extra cross of the PS 97S could lessen spin production, but potentially enhance the precision and feel—a worthwhile trade-off for players who don't need as much help putting work on the ball.
The next aspect of note is the balance. When strung, the frame could come in close to even balance. That's going to give it a substantial feel, and may make the racquet play heavier than it's static weight. It will also give shots some thump, certainly more than the stock version of the previous Pro Staff 95. There was a perception among certain pro coaches I've spoken with that Dimitrov came out of his shoes too often to generate put-away pace with his old stick. While he will undoubtedly have a customized version of the PS 97S, it seems to be starting from a more powerful place.
The last spec is also intriguing. While thicker than the previous Pro Staffs, it would make the PS 97S slightly thinner than the other members of the updated line. That could make it more flexible and controllable, with a friendlier response. It will be interesting to see the final RA rating when the frame is released.
Which is scheduled to be in October. As soon as we get our hands on some test frames we'll follow up with a review. In the meantime, what do you guys think? Are you excited to try Grigor's new stick?
http://www.tennis.com/gear/2015/08/s.../#.VdxpfbLtlHw
Re: Grigor racket
---
If only he had more precise shots with this new racket.
---
No hate, no prejudice, no favorites, fan of good, attractive and attacking tennis.
Re: Grigor racket
---
Grigor plays with his old racket PS95S since Boodles. This is good decision leading to wins in last matches.
---
A man must be big enough to admit his mistakes, smart enough to profit from them, and strong enough to correct them.

John C. Maxwell