Re: Grigor Pictures
---
I wish I could just live in this thread
---
A ROSE BY ANY OTHER NAME WOULD SMELL AS SWEET - William Shakespeare
https://www.youtube.com/watchv=jQY2z6aALD4
"The talent for being happy is appreciating and liking what you have, instead of what you don't have." - Woody Allen
Registered User
Join Date: Aug 2014
Posts: 1,894
Re: Grigor Pictures
---
Re: Grigor Pictures
---
Keep the pictures coming in
But what in the world are he and that woman he is dating doing
---
A ROSE BY ANY OTHER NAME WOULD SMELL AS SWEET - William Shakespeare
https://www.youtube.com/watchv=jQY2z6aALD4
"The talent for being happy is appreciating and liking what you have, instead of what you don't have." - Woody Allen
Re: Grigor Pictures
---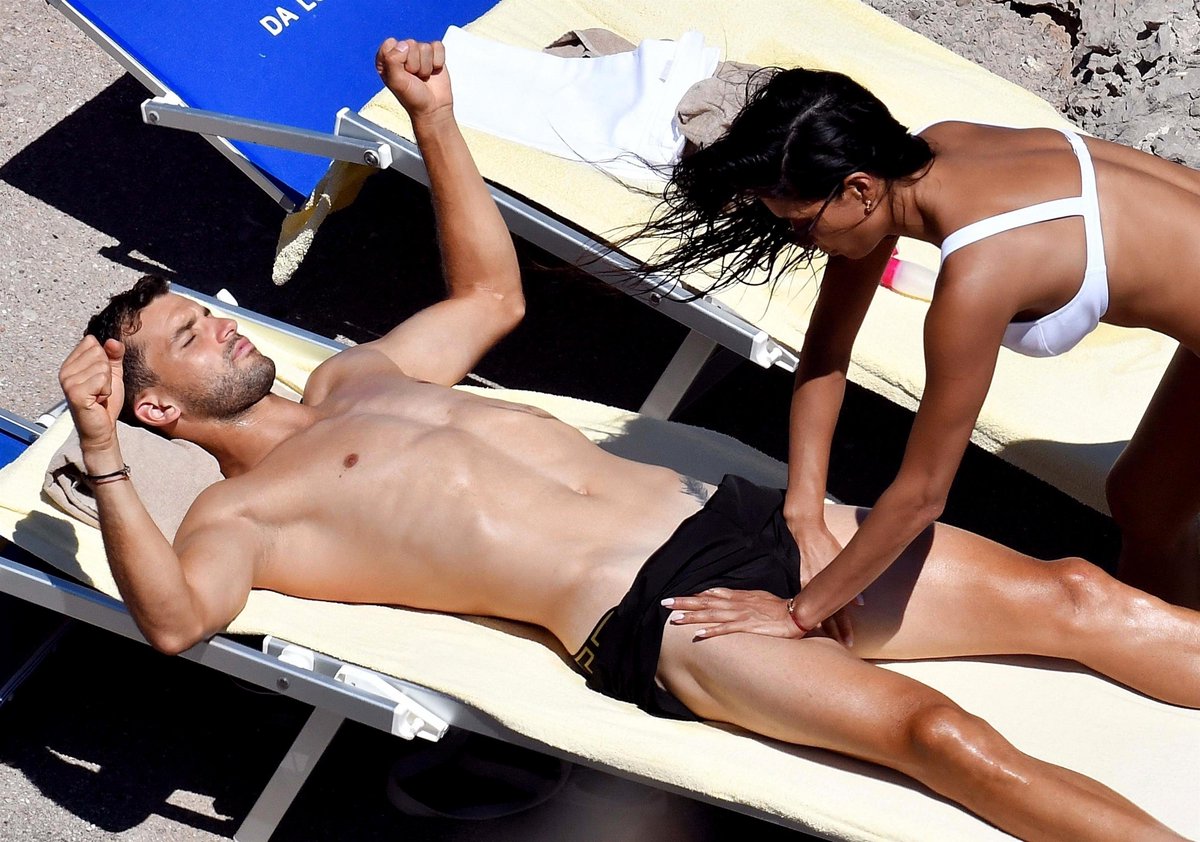 ---
A ROSE BY ANY OTHER NAME WOULD SMELL AS SWEET - William Shakespeare
https://www.youtube.com/watchv=jQY2z6aALD4
"The talent for being happy is appreciating and liking what you have, instead of what you don't have." - Woody Allen
Re: Grigor Pictures
---
I don't think we've ever had such a clean shot of his tattoo before. Still can't make out what it is, though.
---
Mirnyi | Maria K. | Ginepri | Kim C. | Verdasco | Elena D. | Dimitrov | Aga R. | Haas | Ana I. | Tsonga | Sabine L. | Del Potro | Julia G.
29 years ago, one young man conquered the world of Formula 1:
Ayrton Senna. You´ll never be forgotten!!!
2012: Year of my TT Comeback
Singles – W:
Sarasota, Lexington, Rennes, Challenger Tour Finals
F:
Orleans
SF:
Indian Harbour
QF:
Caloundra, Busan, Vancouver, Istanbul, Medellin, Champaign
Doubles – W:
Meknes (w/gulzhan)
F:
Burnie (w/Vilnietė), Sarasota (w/Igorche), Busan (w/Cheeky Chick), St. Remy (w/BrazilTBfan)
SF:
Indian Harbour (w/Broseghini), Istanbul (w/Mahqz)
Won "Challenger Player of the Year" Award
Re: Grigor Pictures
---
CINCINNATI 2017
Dimitrov Beats Kyrgios For Maiden Masters 1000 Title
20 August 2017
Bulgarian comes through in his first Masters 1000 final
The best season of Grigor Dimitrov's career continued on Sunday with the biggest title of his life.
The 26-year-old Bulgarian beat Aussie Nick Kyrgios 6-3, 7-5 to win the Western & Southern Open title in Cincinnati, his third ATP World Tour crown of the year and first at the Masters 1000 level in his career.
Dimitrov matches a career-high with his third title of the season. He also claimed three crowns in 2014, winning The Queen's Club, Bucharest and Acapulco.
"I'm just happy. There's nothing else I can say, honestly. I'm just happy and I'm humbled to have that trophy in my hands, and especially to win here, my first Masters 1000. It's just amazing. I always like this tournament. I have played it quite a few times and always thought this can be maybe one of the first ones, and it is the first one," Dimitrov said.
This season, Dimitrov started the year nearly perfectly on hard courts, going 16-1 en route to the Australian Open semi-finals and titles in Brisbane and Sofia. The right-hander struggled to get going on clay and grass.
But back on hard courts during the North American swing, Dimitrov has regained that early-season form and heads into the season's final Grand Slam tournament, the US Open, brimming with belief.
Dimitrov didn't drop a set all tournament and barely lost his serve, winning 52 of 53 service games. He became the first player to win his maiden Masters 1000 title without dropping a set since Novak Djokovic at 2007 Miami.
"Going to the Open, it's for sure a lot of positivity with it, but the most important thing now is just to stay grounded, keep on doing the same work, believe in myself, and just prepare the best way that I can for the Open," Dimitrov said.*
The Bulgarian showed how much the title meant to him after the match. After a long hug with Kyrgios, Dimitrov beamed at his coach Dani Vallverdu and walked over to him, sharing an emotional embrace with the man who has helped him turn around his career. They started working together about a year ago.
---
Re: Grigor Pictures
---
CINCINNATI 2017
Wayne Richmond presents Grigor Dimitrov a special gift from the USTA after his win over Nick Kyrgios of Australia during the men's final on day 9 of the Western & Southern Open at the Lindner Family Tennis Center on August 20, 2017 in Mason, Ohio.
---
Re: Grigor Pictures
---
Cheeky boy
---
Waving Wilson magic one point at a time
KEI all the way!!!
Get well soon buddy, all the best for 2018
Team THIEM
|
Welcome back Juan!
Got a question for a mod? Ask me via PM or ask MTF mods. Know your forum rules and policy
Re: Grigor Pictures
---
2017 US OPEN Round 1
Seventh seed Grigor Dimitrov blasted past qualifier Vaclav Safranek 6-1, 6-4, 6-2 in one hour and 49 minutes, firing 22 winners and six aces. The Bulgarian turned aside all four break points faced to extend his win streak to six straight.
Champion at the Western & Southern Open two weeks ago, Dimitrov has now won a staggering 13 sets in a row as he looks to build momentum from his maiden ATP World Tour Masters 1000 triumph. The 26 year old, who returned to the Top 10 of the Emirates ATP Rankings at No. 9, has reached the Round of 16 in New York in two of the last three years
---