Cartilage Tear: Out for 6-8 weeks
---
Mark Philippoussis is out of contention for the Australian Open and could possibly be out of tennis altogether.
Philippoussis has been told he requires surgery on a knee injury suffered during the Hopman Cup tie last night. After arriving at a Perth hospital in a wheelchair this morning, an MRI scan revealed Philippoussis has torn the lateral meniscus cartilage in his right knee.
The injury to the cartilage, a semicircular ring of cartilage which acts as a shock absorber for the knee bones, requires surgery and rules him out of a potential wildcard entry into the first grand slam of 2007, beginning at Melbourne Park next week.
It will also place even more scrutiny on the viability of Philippoussis's playing future, following three previous knee surgeries as well as other physical problems that have blighted the mercurial Melburnian.
The 30-year-old was left distraught after injuring his right knee in the fourth game of his match against Frenchman Jerome Haehnel.Despite attempting to play on after lengthy treatment, Philippoussis lasted just two more games before hobbling off.
It is the third time Philippoussis has withdrawn from the mixed team event after tearing an adductor muscle in 2005 and withdrawing in 2000 because of shin splints. New South Welshman Nathan Healey has been drafted in as his replacement in the Australian team, and will fly in tomorrow to play in the tie against America.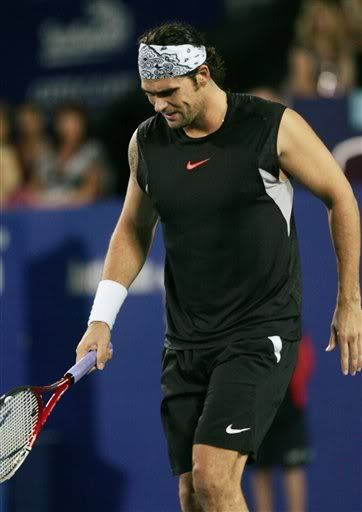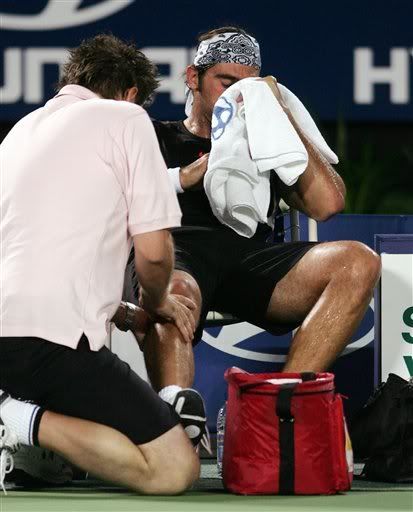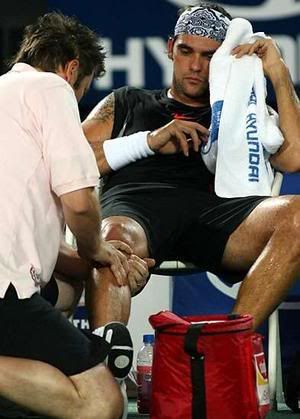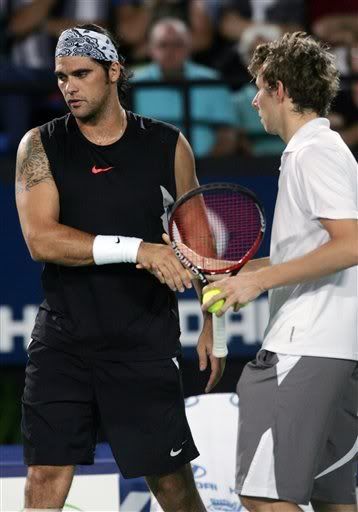 ---
Mark Philippoussis news follow: twitter.com/flipfocus
Re: Cartilage Tear: Out for 6-8 weeks
---
I feel really sorry for him. hope this injury heals up nicely.
Re: Cartilage Tear: Out for 6-8 weeks
---
I think it will heal, but i dont know if mark should keep playing. I think he will risk getting bad arthritis and be in a wheelchair at a young age if he doesn't be careful.

Unless he can lose about 8-10kg i dont think his knees can support his frame on hardcourts. I just feel so sorry for Mark... it's a real shame its happened right at the start of the year, he was so excitied to play in Australia.
---
Mark Philippoussis news follow: twitter.com/flipfocus
Re: Cartilage Tear: Out for 6-8 weeks
---
Media Conference
Transcript - Mark Philippossis (Australia)
3/01/2007

--------------------------------------------------------------------------------

Mark Philippossis
With Paul McNamee.

(McNamee) I would just like to introduce Mark. He has obviously been given some bad news today but has been good enough to come down. Hopefully you (Mark) have got some medication for the pain because I know you are in a lot of pain. Who would like to fire away?

What was the news that you were given today?

(Philippoussis) I have a torn Cartilage. I tore my lateral meniscus.

What's the extent of that?

(Philippoussis) It is going to have to get cut up and trimmed. The tear is too big to be repaired. Unfortunately they are going to have to do it tomorrow.

Have you had any indication on how long you will be in rehab?

(Philippoussis) It's tough to say at this moment. We don't really exactly know how big the tear is and they won't know exactly until they get in there.

Did you sense you had this injury last night, due to the fact that you have had trouble with your left knee?

(Philippoussis) No I went out for a wide one and it busted. I knew that I did something straight away. I thought maybe that I just busted my knee and maybe bruised my joints. I was hoping that was what it was. It was painful but not too bad. I woke up at 6 o'clock this morning. I only slept 3 hours. I couldn't move my knee at all. There was a lot of pain. I'm in a lot of pain.

What's the process now? Are you heading east? Are you heading overseas?

(Philippoussis) No actually I'm heading to Sydney I'm going to see Merve Cross (Orthopaedic Surgeon). I spoke to him a little on the phone. He's the best in the country. Like I said, I will rest tonight then have the surgery and then get back to Melbourne.

How disappointing is it?

(Philippoussis) It's disappointing. I don't know what else to say. What can you do? I have just got to try and get better then go again.

You'll go again?

(Philippoussis) Yes definitely. No doubt about that.

Alan (Jones) said this morning that he wasn't sure if you were going to be able to fly due to the pain. Are you flying out or staying for a while?

(Philippoussis) We are on the Red-Eye tonight to Sydney. I'd say it's not going to be comfortable at all. The thing is that the pain won't go away until I have the surgery. I'm going to have to take some pain killers for the flight to Sydney.

It is a terrible set back. You were looking forward to this tournament. You felt good?

(Philippoussis)Yes I did. During every training session I have been having a lot of fun and I've been hitting the ball well. I felt like I was getting better and better everyday.

Can you say how long you will be out?

(Philippoussis) It is tough to say.

Can you compare it to your injury in 1999?

(Philippoussis) Definitely the meniscus tear, the part of the cartilage. That was a nightmare. I was in so much pain yesterday because I tore it. What happened was that it has now folded back into the joint so any kind of movement causes so much pain. Out of 10 the pain level is 15. I have never had anything like this before.

You trained really hard is it possible that you could have trained too hard?

(Philippoussis) No it's nothing to do with that. I went for a wide shot. It's a freak thing that happened. I just busted my knee.

Is it the same knee that you had the previous injury on?

(Philippoussis) No

You left the court pretty quickly last night. Did you want to say something to the crowd?

(Philippoussis) I think what you have got to realise is that there is nothing more disappointing for me than me pulling out of a match. It hurts me so much to pull out. I have pulled out of three matches, but only because I could hardly walk. I have played through a lot of pain in my career. I have played through a lot of matches. I knew something was terribly wrong last night. I hate letting everyone down but people have to understand how difficult it was for me to walk off that court. It's not easy and it's something that I hate to do. Unfortunately I had no other option.

What were some of your goals for 2007?

(Philippoussis) It's tough to talk about goals now because the only thing that I'm thinking about is getting the surgery done, just relaxing and getting on with the rehabilitation as soon as possible. That's the most important thing for me.

Where will your rehabilitation be happening? Here or Overseas?

(Philippoussis) I would say I won't stay here for too long. I will fly back to Vegas and stay there.

Is the operation tomorrow?

(Philippoussis) Yes at the Mater Hospital in Sydney.

Should you be able to extend your body further due to the fact that you are a young 30?

(Philippoussis) I have always felt very young. I felt like I was in great shape, working very hard. I think these days a couple of guys have shown, like Andre has shown, that if you stay physically strong you can keep going. Having said that, it is tough for me to think about any of that at the moment. I have to take it as it comes.

Prior to your recovery what is the main motivation for you to come back?

(Philippoussis) The only thing that I have to prove is to myself, no one else. I'm playing this sport because I love it. It is what I love doing. It's what I'm good at doing. It is fun. It's my passion and it's my love. I love being out there with the crowd, playing those big points and feeling the reaction of the crowd. Hopefully on that Sunday I will be there holding up that trophy. I think that is what everyone plays for.

Do you feel that you have unfinished business?

(Philippoussis) Definitely. I think everything happens for a reason. I don't know what else to say.

Does it every make you feel that it is just too hard?

(Philippoussis) Nothing in life is easy. You have to fight. It is just another set back. It's another injury. It's going to be hard getting back from rehabilitation and all that. One thing I know is that I'm going to take care of it and go again. It's the only thing that I can do. It's the only thing I want to do. Just keep going.
---
Mark Philippoussis news follow: twitter.com/flipfocus
Re: Cartilage Tear: Out for 6-8 weeks
---
What a blow for the Scud, just intermittent injuries all the time...........
Registered User
Join Date: Oct 2003
Posts: 7
Re: Cartilage Tear: Out for 6-8 weeks
---
Super bad luck for Mark but there is good news post surgery.
I found this on the age. Good Luck to mark

George


Philippoussis' knee surgery a success

immediate playing career of Australian tennis star Mark Philippoussis was looking brighter yesterday following hastily arranged surgery in Sydney.

His doctor Merv Cross operated on Philippoussis' right knee at Sydney's Mater Hospital — he was injured at the Hopman Cup on Tuesday night — and after the surgery said that it was a success.

"It was very straight-forward," Cross said. "He had quite a large tear in the meniscus and about 30 per cent of it had folded back into the joint, which made it very painful for Mark."

Cross said Philippoussis, 30, would spend 10 days recuperating in Australia before flying to the United States for rehabilitation with Andre Agassi's personal trainer Gil Reyes.

Cross said he had also examined Philippoussis' left knee, which had been a source of much frustration and received four bouts of surgery since 1999, and said that knee was in excellent shape.

Cross said there were some fears before the operation that Philippoussis might have also damaged the knee joint, but this had proved not to be the case. "I would expect that after six to eight weeks he'll back running around and be able to play competitively again."

Some sports doctors had predicted that Philippoussis could encounter difficulty regaining fitness because both of his knees were now suspect and troublesome, but Cross said this was premature.

The former Wimbledon and US Open finalist had said before the operation he was determined to play again, planning a return to Las Vegas to rehabilitate with fitness coach Reyes.

JACQUELIN MAGNAY, with AAP
Re: Cartilage Tear: Out for 6-8 weeks
---
Thanks george... the news will be a big boost for Mark, im sure he'll bounce back quickly and hit the gym with Gil pretty hard. 2 more months of physical conditioning will come in handy.
---
Mark Philippoussis news follow: twitter.com/flipfocus