Re: 2013 Season
---
Tower Toppled: Philipp Kohlschreiber Knocks Out John Isner Again
http://www.tennisviewmag.com/tennis-...hn-isner-again
Quote:
An unwelcome episode of déjà vu awaited John Isner on Saturday afternoon. The top-ranked American man faced Philipp Kohlschreiber for a berth in the second week, one year after Kohlschreiber had ousted him from his home major.
Revenge must have hovered in Isner's mind today despite his overall dominance of Kohlschreiber, winless in their other meetings. That deflating five-set loss last year had stemmed in part from fatigue caused by winning his home tournament at Winston-Salem the week before the Open. This year, Isner focused on the larger picture and withdrew from Winston-Salem after he reached the Cincinnati final to maximize his fitness for the major ahead.
That decision appeared to have paid off in the first two rounds, where the American's form looked at least as sharp as it had during his strong US Open Series campaign. That improvement did not much sway the New York crowd in his second-round match against Monfils, who received more support than their compatriot. A surprised Isner voiced his irritation to the media after the match, but he could not let that subplot distract him against an opponent of Kohlschreiber's quality.
While the German's best tennis lies behind him, he has scored victories over Novak Djokovic, Rafael Nadal, Andy Murray, and many of the other elite players from the last decade. The streaky Kohlschreiber wields an explosive array of weapons despite his modest size, and his ability to catch fire at unpredictable moments can punish anyone who lets down his guard. Isner's effortless power and superior poise gave him an edge on these fast courts, but only if he stayed focused on his task.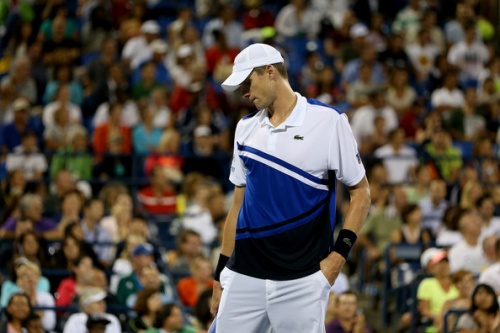 The match could not have started much more poorly for Isner than it did. Muted in his body language, he conceded an immediate break of serve. The improved movement and baseline consistency that had characterized his summer success appeared to wilt in the New York heat. Still, Isner's familiar first strikes continued to fire, both on serve and on return. Kohlschreiber compensated for a wayward first serve with deft touch around the net, saving a break point in the fourth game en route to a hold.
Although he would hold serve easily for the rest of the first set, Isner did not earn another break point on his opponent's serve. A few bright signs emerged from his baseline game, such as aggressive approach shots and inside-out forehands. But Kohlschreiber escaped from a deuce situation when he served for the set, firing an ace down the T and unleashing his explosive one-handed backhand.
Early in the second set, the German again dodged some danger by digging out of 0-30 on his serve, shortly after he had threatened the Isner serve at deuce. A clever cat-and-mouse point at the net showed off Isner's wingspan while keeping Kohlschreiber under pressure on his next service game. The one-handed backhand that had exploded for timely winners in the first set began to leak untimely errors. An inside-out forehand winner from Isner pounced on the opportunity in the sixth game that he could not convert in the fourth.
Quickly consolidating his first advantage of the match with a love hold, Isner raced through the rest of the set to level the match. He served at 85% in that set, and few players can trouble him with that percentage. A best-of-three encounter would ensue between the American server and the German shot-maker as both of them probably reflected on their memories of last year's epic battle.
Isner has grown accustomed to such wars of attrition in his career, playing many close sets and matches because of the contrast in quality between his serve and his return. The calm discipline that he has developed from those situations might have given him an edge over the less patient Kohlschreiber. Barely losing a point on his serve over his first few service games of the third set, Isner seemed to have gained the upper hand.
No break points arrived for either man through the first ten games of the third set. Serving to stay in the set at 4-5, Isner answered the bell with a series of towering serves. Kohlschreiber played longer points on his serve but avoided the abrupt lapses from the baseline that have cost him many tight matches over the years. From 40-15 at 5-5, though, he grew tentative in allowing Isner to draw back to deuce.
Once he failed to convert that opportunity, it was the American who suffered the costly lapse. A tepid game as he served to force a tiebreak quickly left him down triple set point. While Isner saved the first with an ace, he double-faulted long on the second to hand Kohlschreiber a cheap break and a two-sets-to-one lead.
The most optimistic scenario for the giant Georgian now required him to do exactly what he failed to do at the 2012 US Open: win a fifth set from Kohlschreiber. First things first, though: Isner needed to win the fourth set to even give himself a chance to reverse last year's setback. Lethargy seeped into his manner after he started the fourth set, and an opportunity knocked for Kohlschreiber to gain a stranglehold over the match in the fourth game. Able to escape that deuce situation, Isner earned some positive momentum for the first time in several games.
Soon it was the American's turn to take his opponent to deuce, although he too could not seize the crucial breakthrough. When they arrived in the ninth game, Isner raced to his right to unleash a sparkling forehand pass that set up two break points. Kohlschreiber saved those two and a third with bold shot-making under pressure, leaving the top-ranked American serving to keep his US Open campaign alive.
That task accomplished, Isner again menaced the Kohlschreiber serve at 5-5. The men traded tepid errors early in the game before a clean strike down the line from the American earned him the only break of the fourth set. A complete surprise came when Isner failed to serve it out, dropping the next game at 15 with a double fault and an errant slice. But the tiebreak also arrived because of fine returning by his opponent.
Needing the tiebreak to stay alive, Isner collected himself in time to rediscover his first serve. Kohlschreiber could not put any of the American's first three deliveries in play. When Isner did miss a first serve at 3-3 in the tiebreak, he paid the price immediately by flinging a forehand long. Kohlschreiber essentially held the match on his racket with that minibreak in hand, and solid baseline play earned him triple match point. After Isner saved the first two match points with confident attacking play, the German held a third on his own serve.
Kohlschreiber did not waste the opportunity, putting Isner on the defensive and closing out the point at net with a smash. By repeating his triumph over the American at last year's US Open, he earned a second-week matchup with world No. 2 Rafael Nadal.
For Isner, the loss must have tasted especially bitter in view of his decision to withdraw from Winston-Salem. He skipped that home tournament to rest for New York yet recorded the same result in the end as when he won Winston-Salem last year. The loss also came as a blow to Isner and his supporters because of his strong form this summer, when he finished second in the US Open Series with a title and two runner-up showings. The Isner who appeared on court today looked much more like the immobile, tactically limited giant of former times than the improved version whom we
Registered User
Join Date: Dec 2004
Posts: 400
Re: 2013 Season
---
Too bad but facts are facts. Isner is a good player. Just not good enough to ever win a major or really come close for that matter. Not with his physical limitations and lack of an overall, complete game.



Having said that, he still has had a hell of a career. Much better than anyone would have ever predicted as a pro.
---
Last edited by Chaos Inc.; 09-03-2013 at

01:48 AM

.